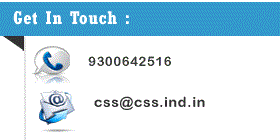 Our Journey
Milestones crossed
It all started with a vision to achieve the sky in providing best business solutions in the easiest & cheapest way right to penetrate the business needs.

Each member at Chhattisgarh Software Solutions believes that Company & its moral values are bigger than any of them and this is chief characteristic of our growth and success.
Smriti Nagar Home 2009 :Chhattisgarh Software Soltuions began its journey in July 2009 with a handful people. It all started with providing Internet Service to individuals, users and small businesses. The prominent regions covered for this service were Smriti Nagar Home considering the demand of this service high in these areas.

Head Office Nehru Nagar 2010 : In the second year of company's journey we worked on the field of Mobile Media forecasting the reach & penetration of this media. Our strength grew to a number of 8 people in this year.

We fully utilized the power of mobile and assured that right information reached to correct recipients. The outcome of this service added a number of satisfied clientele comprising of both big and small business groups in our list. We secured a distinguished position in the field of mobile marketing and built a strong position in Bhilai Chhattisgarh, Bhilai and Durg.

We are constantly growing in mobile media marketing and have a very strong hold in understanding the market trends and business needs. We promote the businesses among their focused audience in a very innovative way keeping in mind the business focus and usability.

Branch Office Smriti Nagar2011 : After making a strong presence in the market via our Mobile media solutions, we realized that there is a demand of presenting the businesses in web and various IT-based business solutions and products are basic requirement of growing businesses.

To meet this demand we started our new IT segment and we fulfilled these demand for several client with a team force of 13 plus people.

This segment is rapidly growing and we are working on a number of projects and business products simultaneously.

The other significant achievements during this year include establishment of business centers in Bilaspur (CG).

2012 : We are successfully moving ahead in all our business segments and expanding exponentially

2013 : We care, respect and are concerned about our colleagues and customers around us. We ensure that every employee is accountable and responsible for ethics in every transaction. We provide stimulating work culture that cultivates creativity and innovation among our team.

2014 : In this Year we are finally move to new technology like ANDROID,EXT JS.
Training In New Technology

Android Using PHP : It's very simple to integrat android and php.
Ext JS In JAVA Ext JS 4.2 is a pure JavaScript application framework that works on all modern browsers from IE6 to the latest version of Chrome..
Advance Products
IVRS PROJECT : that project for chhattisgarh goverment by using that project C.G. Govt. Resolve the all type of problem for all commen man.For Ex : Any Customer Care.
Latest Projects
" Aanganwadi Karyakarta Capture Photo From Mobile & Automatically Upload To Server. "
Our Main Services
" Web Application, Hardware Integration, Website Designing, Mobile Application, Desktop Application, SMS Facility, Software Analyssis, Paypal Integration, Payment Getway, Vacational Training .. "