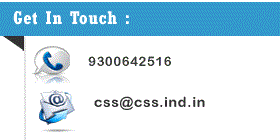 Quality Policy
Quality is the parlance of our company. We carry out the testing activity in each phase of software development cycle. During the software development process unit testing & integration testing is performed by developers and then System testing & a number of other testing are executed by quality assurance engineers. Acceptance testing is done by the client for the approval of project. Chhattisgarh Software Solutions provides an online access to the quality assurance system and tracking the quality status of the project.

We test software product user-friendliness, stability, security, its adherence to functional and performance requirements, and many other aspects to deliver the highest possible quality projects and solutions that exceed our customer expectations.

We incorporate quality into the software application lifecycle from the very beginning. It aligns business priorities and quality expectations with project requirements, development activities and software testing. Testing is carried out as managed process encompassing the whole software development life cycle & this empowers:
Effective identification of defects early in development cycle when remediation costs are lowest
Eliminate broken builds that can block progress for both development and QA
Deliver applications with higher quality and performance
We always try to work with in the time frame and have also set goals to eradicate the risk of failure. Also, our production and engineering team closely follows every step of SDLC (software development life cycle) before addressing actual coding and testing.
Some of our time tested software engineering principles are:
We will constantly strive to achieve the highest possible standards in our day-to-day work and in the quality of the services we provide.


Developing prototypes if required and specifying detailed design and functional specifications.


Retrieving client feedback before starting actual product development.


Time estimation.


Architectural design of software.


Full utilization and allocation of resources.


Task break up.


Scheduled releases of quality assurance.


Testing plans related to quality assurance.


Properly documented admin, user and installation guides.


Training In New Technology

Android Using PHP : It's very simple to integrat android and php.
Ext JS In JAVA Ext JS 4.2 is a pure JavaScript application framework that works on all modern browsers from IE6 to the latest version of Chrome..
Advance Products
IVRS PROJECT : that project for chhattisgarh goverment by using that project C.G. Govt. Resolve the all type of problem for all commen man.For Ex : Any Customer Care.
Latest Projects
" Aanganwadi Karyakarta Capture Photo From Mobile & Automatically Upload To Server. "
Our Main Services
" Web Application, Hardware Integration, Website Designing, Mobile Application, Desktop Application, SMS Facility, Software Analyssis, Paypal Integration, Payment Getway, Vacational Training .. "