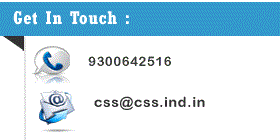 Our Profile
Chhattisgarh Software Solutions is renowned software company in Bhilai, Chhattisgarh delivering affordable business and technology solutions for the needs of every business and providing the richest user experience & web presence solutions. We offer best solutions for promotional activities for the clients in Mobile Media for their focused audience.
Chhattisgarh Software Solutions recently started providing vocational Training in Chhattisgarh. Vocational training program includes Training in Oracle, J2EE, .NET, PHP, ANDROID to expertise people to get their dream jobs.

Our other established centers are in Bhilai, regions. We have a perfect blend of young and enthusiastic talent from IT & marketing backgrounds working in full synergy.

Our Values
Quality : We will constantly strive to achieve the highest possible standards in our day-to-day work and in the quality of the services we provide.

Customer Satisfaction :We measure our success by the level of customers Satisfaction. We serve our clients better & better by investing in our core capabilities and experience; based on market analysis, client needs and industry trends.

Integrity : We conduct our business with full honesty and have open and transparent decision making processes & trust our employees completely.

Employee Reliance : We consider our people as our greatest assets. Our Company consists of people who are ethically sound, creative, thoughtful, tech savvy, professional, proactive, skilled, and have the passion for excellence.

Understanding : We care, respect and are concerned about our colleagues and customers around us. We ensure that every employee is accountable and responsible for ethics in every transaction. We provide stimulating work culture that cultivates creativity and innovation among our team.

Corporate Social Responsibility :We are determined to help our society by eradicating the root cause of all problems – Illiteracy. We strongly believe that Education is the most powerful tool to fight against any problem.

We are also firm for saving our environment. To support this mission we use Green Marketing techniques and execute our work by using least natural resources of environment. Our all the services like SMS Marketing, E-mail & E-marketing, Website & software development support the mission of saving our environment.
Our Products & Services
SMS Services is one of our Key Strength areas and we are equally focused in Website development, Software Development, Voice Solution Services, and Internet Marketing or E-Marketing.

We offer affordable, attractive & user friendly website design services to individuals and companies keeping your brand identity in mind. We develop custom software as per your business needs.

Our SMS, Email Marketing/E-Marketing and Event Marketing Services are great tools for the businesses/companies to create, build and maintain relationships with customers and is very effective in delivering company messages to focused audience.
Training In New Technology

Android Using PHP : It's very simple to integrat android and php.
Ext JS In JAVA Ext JS 4.2 is a pure JavaScript application framework that works on all modern browsers from IE6 to the latest version of Chrome..
Advance Products
IVRS PROJECT : that project for chhattisgarh goverment by using that project C.G. Govt. Resolve the all type of problem for all commen man.For Ex : Any Customer Care.
Latest Projects
" Aanganwadi Karyakarta Capture Photo From Mobile & Automatically Upload To Server. "
Our Main Services
" Web Application, Hardware Integration, Website Designing, Mobile Application, Desktop Application, SMS Facility, Software Analyssis, Paypal Integration, Payment Getway, Vacational Training .. "