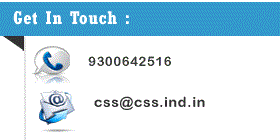 Our Team
At CHHATTISGARH SOFTWARE SOLUTIONS we believe that most valuable resource we possess is our people and collective achievement is simply a way of life. We focus on our 'Internal Customers' as much as we concentrate on Client Partners. Whether it comes to innovation, deadline based delivery, quality consciousness, cutting-edge solutions; our teams do it together.

Our Team is a complete and strategic mix of professionals from Technology, Consulting, Business Management and Client Servicing domains. The Team has some of the most talented and spirited people and each one contribute in their own special way to achieve the task.

The corporate culture at Chhattisgarh Software Solutions has imbibed genuine values in each individual with us. We earmark a sacred place to the knowledge updating, Research & Development and Quality policy. Experience and professionalism of our team is evident in all our work.
Team Description
Our team is perfect combination of Business Administrative people, Business Analyst, Technocrats, Marketing experts and Quality Assurance people.

Business Administrative group comprises of Senior Technical Architect, Human Resource, Business Analyst and managers.

Our Technical team consists of experienced Software Developers, Web Designers, Graphic Designer, Web Developers and Testers. Every one of them contributes with their in-depth knowledge, skill and experience for achieving unique & best quality products.

Our Quality Assurance team makes sure that product delivered is as per User's requirement by testing and verifying product's quality & Usability.

We have also a dedicated team of RESEARCH & DEVELOPEMENT which is continuously working to improve the product quality along with creating some innovative products as per market flexibility.

Our Operation & Support team provides excellent client services and support on our various products like Anganwadi karyakarta Mobile Application, Bike Finance,Finance Sectore, Multi Level Marketing etc. and assures any problem faced are resolved at the earliest.

Our Sales & Marketing team is face of our company. Relationship management with clients is the most prior concern of our Sales & Marketing team and they constantly work on providing best services and keeps on analyzing the trends.
Training In New Technology

Android Using PHP : It's very simple to integrat android and php.
Ext JS In JAVA Ext JS 4.2 is a pure JavaScript application framework that works on all modern browsers from IE6 to the latest version of Chrome..
Advance Products
IVRS PROJECT : that project for chhattisgarh goverment by using that project C.G. Govt. Resolve the all type of problem for all commen man.For Ex : Any Customer Care.
Latest Projects
" Aanganwadi Karyakarta Capture Photo From Mobile & Automatically Upload To Server. "
Our Main Services
" Web Application, Hardware Integration, Website Designing, Mobile Application, Desktop Application, SMS Facility, Software Analyssis, Paypal Integration, Payment Getway, Vacational Training .. "